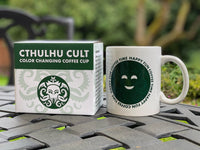 The "Cthulhu Cult" Color Changing Coffee Cup
Unlike dread Cthulhu, who lies dreaming in the chill embrace of the ocean's darkest places, we humans must awaken daily for our toil. 

But, lo! Could it be? That even in the bleary light of our wan yellow sun, in the dreary false cheer of our anthill offices and desolate meeting-rooms, we might still drink the steaming blood of the Earth in worship of the Great Old One?
Be careful, friends. Use this mug. It will betray nothing… until you feed it the boiling liquid it craves. Only then will it will show you the way. 
LET IT RUN THROUGH YOUR VEINS